DSD 321 The Complete Anti Ligature Locking Solution with Permanent Key Override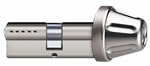 Download Mul-T-Lock Anti Ligature Lock Leaflet
Mul-T-Lock Anti Ligature Lock Solution
The Mul-T-Lock Anti Ligature lock solution was specifically designed to address the risk for self harm within psychiatric and probationary type accommodation facilities. Its innovative anti-ligature thumbturn mechanism gives the occupant privacy whilst enabling immediate access in the case of emergency by using the Emergency Key.
The emergency key disengages the thumbturn so to allow access.
The optional combination change facility means that the locks can be recoded in the event of a lost key so security is not compromised.
Suitable for euro profile mortice cases.
 Features;
 Patented ribbed plug for increased security
Patented Interactive cylinder
Pick and drill resistant
Master Keying available.
 The Mul-T-Lock anti ligature lock solution is available on the interactive platform only