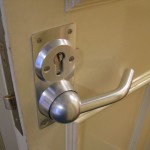 As a professional locksmith in East London and the surrounding area, we understand the importance of security for your peace of mind. We are able to help you with all of your security needs, whether for domestic or commercial properties, or even where vehicles are concerned.
Our professional locksmiths can come to you and conduct a full security service in order to analyse your security requirements and recommend the best solutions for your needs. Whatever it is that you need in order to keep your property safe, from locking solutions to intruder alarms, we can provide it.
Locksmith in Essex
We also provide a wide range of security services, including intruder alarms, CCTV installation and anti-ligature locking solutions, so whatever your needs, you can have complete peace of mind that your security is well and truly taken care of.We know that, when you need to have new locks installed, you will want to find a locksmith in Essex who you can trust, which is why we provide a professional and well-recommended service using top-quality locks from brands such as Tigris, Yale, Garrison and many more. We also provide Electronic Key Fob Programming Service in our store, which is fast and easy.
Contact AFS Security for Locksmiths in Kent
From our base in London and our associated office in Dover, we can offer our professional services to a wide range of clients looking for an expert locksmith in Kent and Essex. We have a team of highly qualified installers to ensure that every product gives you complete security and the comfort and reassurance that comes with it. We also provide a key fob copying service, which is fast and easy when you come into our store.
Whatever your security needs, you can find the services of a professional locksmith in East London, Essex or Kent by contacting our friendly and  expert team here at AFS Security on 0208 4719000. We will be happy and able to advise you further.