How to get Garrison Security Keys cut?
To get additional Garrison Security Keys- Please email/fax 7 Digit number found on your Garrison Registration Card, along with your contact details, including your full address and contact telephone number.
The Garrison Security Range from Mul-T-Lock comprises of a cost effective variety of high performance Garrison locking products, designed for the majority of locking applications.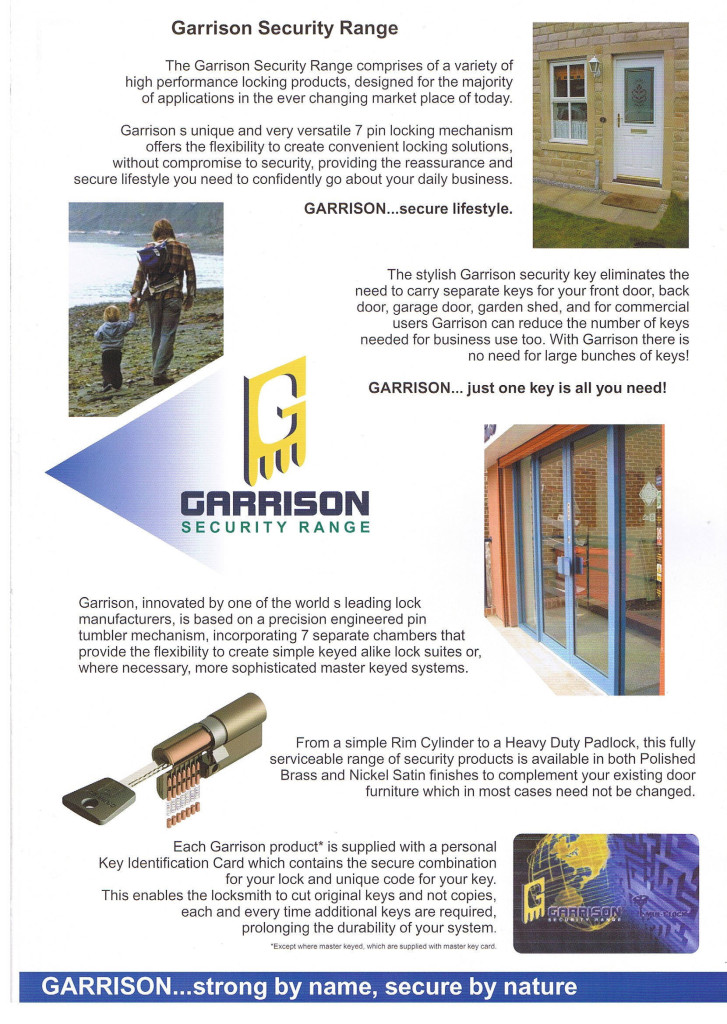 Garrison Security Range Cylinders
The Garrison cylinder utilises a high quality 7 pin tumbler locking mechanism which incorporates…
Garrison – Pick Resistance
Provides protection against forced skilled manipulation
Garrison – Torsion Resistance
Protects against a forced turning attack

Garrison – Corrosion Resistant
All Garrison components are made from rustproof materials or are nickel plated to prevent corrosion
Garrison – Card Controlled
Each individual differ is provided with a Garrison 'Key Control Card' which contains the secure combination for your lock and the code for your keys. This card enables us to cut original Garrison keys on our precision machinery rather than simply copy what may be a worn sample. It is extremely difficult to accurately copy a Garrison key without this card and the dedicated machinery.
Garrison – Extended Differ Range
The high quality Garrison 7 pin mechanism allows for more than 800,000 different keys – this far exceeds the usual 20,000 offered by high quality standard cylinders.
Garrison Security Keys – Double Entry Key
Garrison Security Keys' double sided dimple key can be inserted into the cylinder either way up – no more trying to put your key in the lock upside-down.
Garrison – Versatile Keying Options
Garrison Cylinders can be made to be keyed alike or developed into an extensive Master Key Suite.
Garrison Security Range Padlocks
Mul-T-Lock Garrison G-series Padlocks
Garrison G Series padlocks are made from solid brass body with satin chrome plating.
The Garrison G-series Padlocks include various sizes, several types of shackles for a variety of applications and are available with or without the Garrison Shackle Protector.
The Garrison Padlocks can be keyed alike with other Mul-T-Lock products         
For further information or any enquiries about our range of Garrison Security Keys and other Garrison Security Range products please contact us or request a call back by filling in the form at the top of this page.