Mul-T-Lock Break Secure Cylinders Carry Anti-Manipulation Kitemark
The pioneering Mul-T-Lock Break Secure cylinders have achieved the very latest security standards to provide locksmiths with the ultimate in lock security. Mul-T-Lock Break Secure cylinders from the leading security cylinder manufacturer has been independently tested and proven to exceed the British Standard Kitemark BS EN 1303:2005 accreditation scheme.
Independently bump tested by the Master Locksmiths' Association as part of a General Vulnerability Assessment (GVA), the Mul-T-Lock Break Secure cylinders offer a high security external door solution, even if broken in an attack. Says Mul-T-Lock UK's Marketing Manager Matt Rice: "With Break Secure cylinders now being accredited to a BSI Kitemark, locksmiths can be confident of achieving the latest security standards, which in turn, means peace of mind for their customers."
Mul-T-Lock Break Secure cylinders utilise the Garrison 7-pin system, suitable for use on all front and back door types and is supplied with Mul-T-Lock's 7-pin double-sided flat key that can be used either way to open the lock. All cylinders are easy to fit, or retrofit, on all euro lock cases and are available in a wide range of sizes to suit a variety of door profiles.     
The range of Mul-T-Lock Break Secure Cylinders are specifically designed to combat the growing threat of unauthorised entry whereby the criminals snap the Euro-Profile style cylinder commonly fitted to most uPVC and Patio doors.
To combat this growing problem Mul-T-Lock have designed the Break Secure Cylinder range, which although the cylinder will still snap, it will snap in a predetermined position leaving intact a portion of the cylinder that will still provide security and still allow the original key to open the cylinder, thus preventing the easy manipulating of the locking system.
This threat can easily be considerably reduced simply by upgrading the cylinder to one that is specifically designed to prevent this method of attack, leaving your property secure. 
For further information or enquires please contact us or request a call back using the form at the top of this page.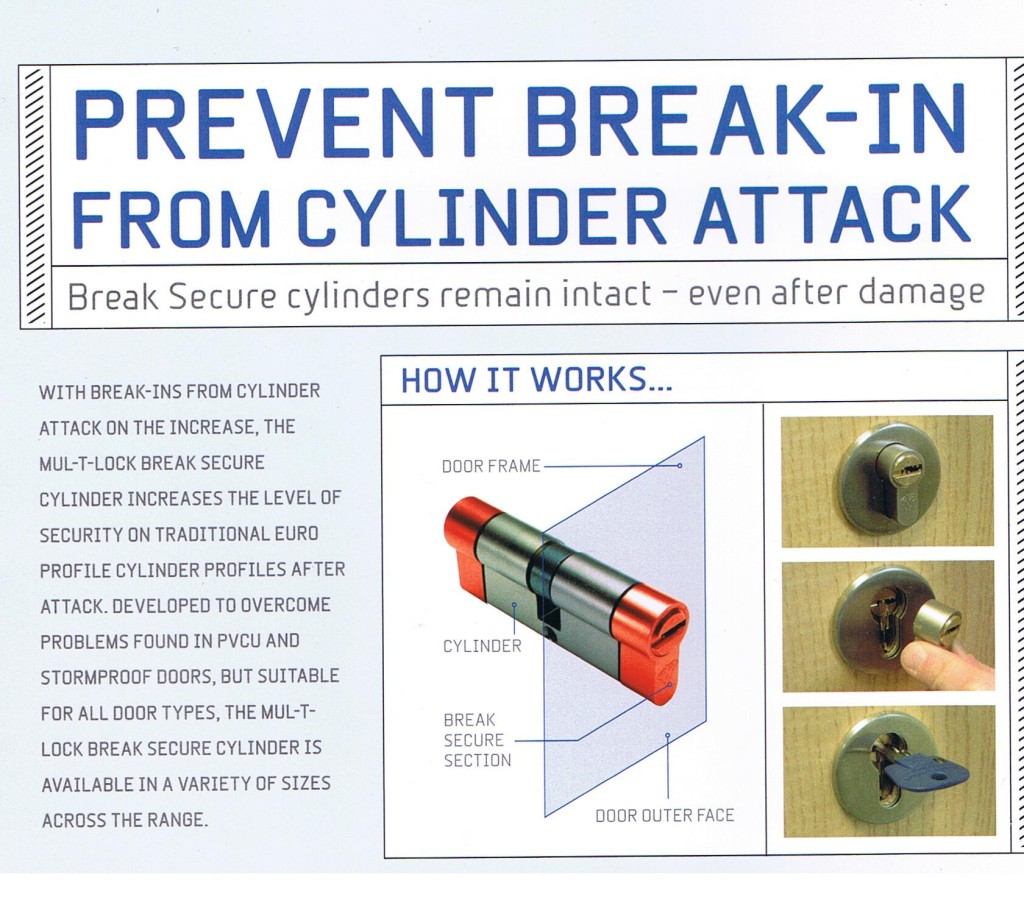 Mul-T-lock Break Secure Trezor EN 1303 Certificate